Why 3 Songs And A Sermon Do Not Work For Me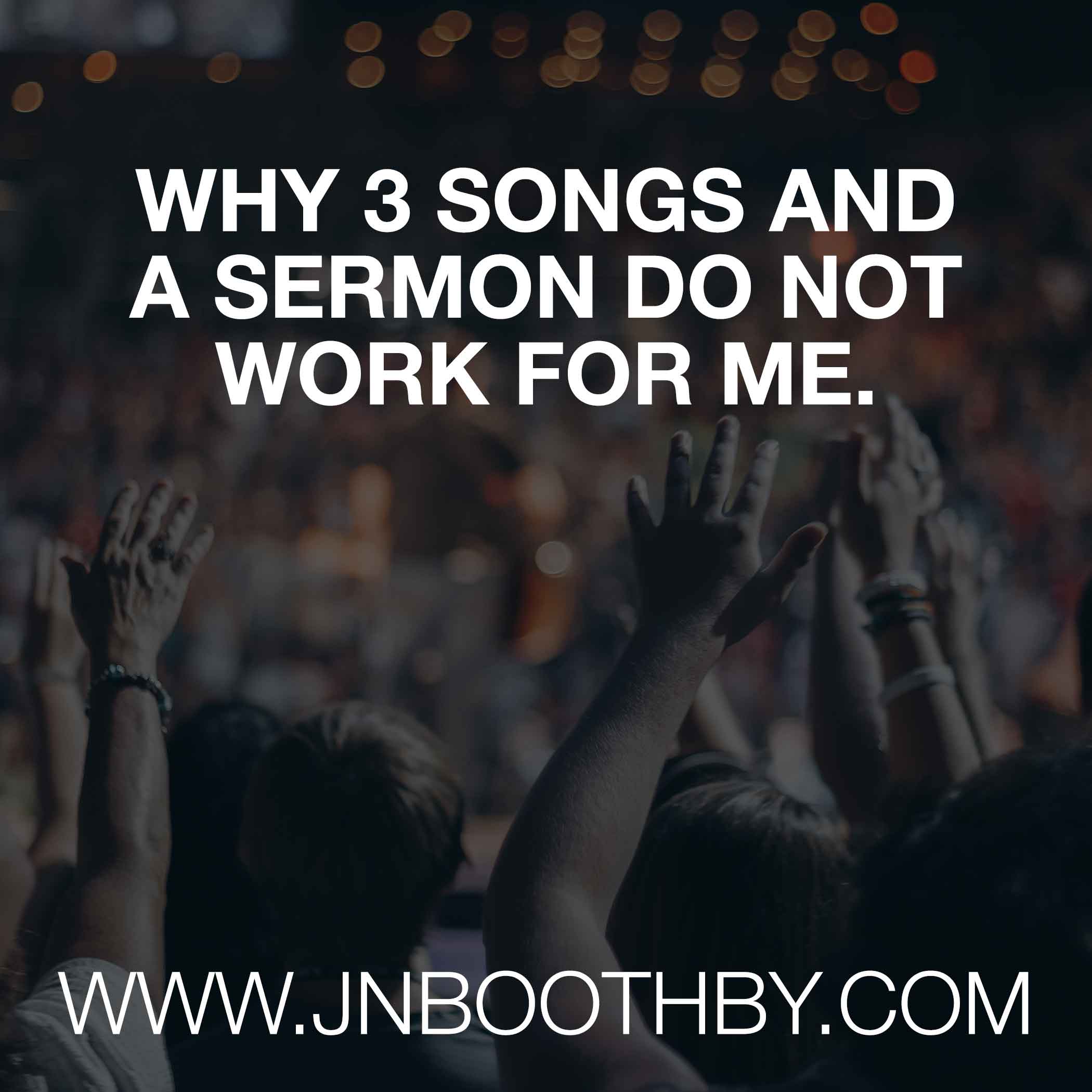 Massive Disclaimer
I originally wrote this before COVID-19 and have made a few adjustments since then. I know this may be a difficult (albeit long) article to consume without getting upset with me. And trust me, I've been letting this brew for probably at least 8 months in written form and at least 5 years in my heart and mind. I know people I love and respect greatly who run their services with 3 songs and a sermon – and as you'll see throughout, you may run your Sunday mornings that way and that's totally okay if it works well for you. The goal of this article is to challenge us to think with a different perspective and to think outside of the box. 3 Songs and a sermon (or 2 songs, with announcements…you know what I mean) just do not work for me. Granted, I know that I'm different from everyone else. However, I'm going to go out on a limb and suggest that it's probably not working for others either.
The Comparison Trap
When I was younger I had a Pastor I really looked up to. I loved the atmosphere he helped to create and his sermons. Consequently, as I became a Youth Pastor, I felt like I needed to model my youth group after this pastor's services. I felt like, "If I want my students to become spiritual giants like I was (sighs with disdain), I need to do what this guy did for me!" 
The comparison trap bound me through every youth ministry I led. My mid-week services weren't cool enough. I didn't have the looks that this pastor had. I didn't have a wife. Depression and endless self-criticizing were lethal. My thought process was, "I wasn't as awesome as this other guy so my ministry wasn't as awesome or 'Holy Spirit-led.'" 
Fast forward to a recent time and I finally got a chance to revisit his church. In a nutshell: it was cringe-worthy. I'm pretty sure I almost broke Lauren's hand from squeezing it so hard. I was so angry with myself. This wasn't the church I remembered. How could I have wanted to model my entire ministry off of this? It was a hard moment of reflection. It was a deep moment of realizing the bonds I had chained myself to and the ministry I lost simply because I was bound to a comparison trap. 
As I dive into these thoughts I begin realizing the true reason why that church was so influential in my growth. It wasn't the church services themselves, per se. I had a mentor who held me accountable. I had a phenomenal community with my friends. And while I may have been equipped during the services, it's the community I remember the most. It's the community who prayed with me, who loved me through difficult seasons, and broke bread with me. It was the true Church that cultivated the season of spiritual growth I so desperately long to return to.
It's A No For Me
And this is where the title comes in. 3 songs and a sermon don't work for me for many reasons. First, at least from my experiences, there is very little community that happens on Sunday mornings in many American churches. I've heard and said different variations of the phrase, "Because you know how hard it is to connect with people on Sunday." Authentic community is not happening on Sunday mornings because we're so consumed by the entertainment show that by the time the hour or two is over, we just want to get out. There is almost no time (with the exception of the awkward "greet your neighbor" moment) for genuine conversations and community to happen. Instead, many churches have become a concert/TED Talk that you show up to week after week. I'm trying really hard not to come off mean or pretentious here. I promise it's not my intention. However, I firmly believe we have to reconsider how we come together as the church on Sundays (or Saturday if that's your thing). 
My goal here is to liberate pastors and church staff who think they need to do what all the "cool" or "mega" churches are doing. To liberate pastors and church staff who think they need to keep doing what they've always been doing. I'm offering you the "Red Pill" to open your eyes to a new way of being The Church. You are your own church, with your own people, and your own identity. You may be a church where 3 songs and a sermon work well. But you don't have to be confined to that structure if you don't want to. And frankly, it comes down to what you believe the purpose for Sunday morning is. 
You have to ask yourself (and probably your congregation) if the structure you've created for Sunday mornings is working. Is it truly building community? Are we really equipping the congregation to be servant-leaders outside the four walls? OR are we more focused on entertainment and programs that happen inside the four walls? Especially now that we are opening back up after COVID, we are in a totally new era of life. It's the perfect time to evaluate and research other options for "being the" or "doing church." Remember, the church was never meant to be confined to four walls like we see today. We cannot allow "what has always been done" to dictate what we must do to ensure a better and deeper future. In the words of A.W. Tozer, "We do not look back in order to go back, rather we look back to make sure we are going forward in the right direction." (The Dangers of a Shallow Faith – Chapter 1)
In a recent podcast on "Gen Z Atheism" Dr. William Lane Craig discussed two articles that dealt with the rise of atheism in Gen Z. The main article by Dr. Michael Brown notes that causes such as climate change, social justice, racial inequality, and LGBTQ activism are all causes that young people are invited to take part in and be committed to. Dr. Craig suggests that the point of Brown's comments are to say, "Here are examples of where young people respond to a big vision, to something that calls them to sacrifice and to work for a cause. And [Brown] claims that the church hasn't presented this vision of commitment to Christ and His Kingdom with the same passion and urgency. Dr. Craig continues, "We've focused on entertainment and emotional worship services among young people instead of calling them to this high calling" (Podcast link) (Dr. Brown's Article) (Adam Lee's Article). So as ministry leaders, we have to ask ourselves if we're calling people to be disciples of Jesus or if we're calling them to be emotional fangirls (or boys) of the newest worship song. 
We've all heard it said to the point of cliche, but it doesn't make it any less true: "the church is not a building." There are so many churches that are consumed by Sunday morning where no real "church" happens. We pour hours, money, and sweat into a one hour concert. Don't get me wrong, the right concert can very much be a spiritual event. But just going to a concert every week will only evoke worship in my heart and emotions. God also calls me to love Him with my mind, my soul, and my strength.
Alright, I've done quite a bit of talking, I know. Hopefully, it came off more convicting than pretentious. With that being said, here are a few constructive ways we can get Sunday morning to look more like a Church coming together rather than a Sunday morning concert.
Cultivate Community
(Remember, this article was originally written before COVID but I didn't want to leave this part out because it's still important) A lot of churches offer a variety of different sugar-filled and carbo-loaded items on Sunday mornings. Donuts. Bagels. You get the gist. However, everyone eats separately or on their own. While the apostles shared communion together they quite literally "broke bread" and ate together. There was something powerful about coming together and sharing a meal together because they were probably having some real, honest conversations at the same time. Millennials and Gen Z don't entertain inauthentic and fake conversations, therefore we must strive to go deeper in our conversations and train our congregations to do so. Try to create time at the beginning where you hold back the food until you're all together, you pray over the food, then you allow people to eat and talk together. Cultivate community.
Practical Makes Practice
We've all heard the phrase, "practice makes perfect." In the church, we need practical to make practice. What does that mean? We need to offer practical steps for our congregation each week to follow Jesus and serve others in order to create recurring practices. If you can, offer a way for your congregation to do something right there in the middle of your service that causes them to stand up, move, use their hands, whatever you have to do to get that neuroplasticity going and form new neural pathways so they'll remember the practical application behind your sermon. Speaking and listening (Auditory) is only one way people learn. There are actually four ways people can learn: Visual, Auditory, Reading/Writing, and Kinesthetic (hands-on) (Link). Me, personally? I'm a Kinesthetic person. So make it practical and if possible, do it right there during your service. If you need to cut a song or cut down your sermon time so that people can go assemble flood buckets for 15 minutes, you better believe that will go far for remembering the main sermon point. Plus, doing something with other members of your church does the first suggestion, "Cultivating community." 
Get Creative
Like I said above, 3 songs and a sermon may work for your congregation and that's great! But don't stop thinking up new ideas for how Sunday morning can look more like a Church and less like a show. Form a Creative Team made up of all generations. And yes, I mean get a 6 or 7-year-old on that team with a 90-year-old. Let them come up with new ways to worship God and serve others. Have them meet once a month and then meet every quarter with your Worship Team. Make your Sunday mornings engaging. As Jim Kwik says in his book Limitless and almost every podcast he produces, "Learning is an active process, not a passive one." (Link)
Conclusion
We have such an opportune moment to do things differently right now. And the only excuse you need to do things differently is, "COVID-19." This is your chance! Don't let your Sunday mornings be so rushed and so rooted in entertainment or tradition that you can't have genuine conversations with other people. I'm not saying you need to talk to every single person. You can't. But make it a priority that everyone in your congregation has one authentic conversation each Sunday. Make it a priority to learn one prayer request. Make it a priority to encourage one person. Don't just be a band that plays in a building. Don't just be a thought leader that speaks on a stage. Be a servant-leader that causes your Sunday morning crowd to do more than sing and listen. Challenge them to repentance. Challenge them to go out in the power of the Holy Spirit. Challenge them to be active disciples of Jesus. Then do something right there and then to bring the learning full circle. Shorten your sermon (The average person can usually only focus for 25 minutes at a time anyway). Cut down the announcements. Take out a worship song. Do what you need to do to make your Sunday mornings more practical and more focused on community. You or your services don't have to be perfect but they can be more engaging and practical. Show your flaws, make a few mistakes, be honest and real, and don't be afraid. 
-Justin
Leave A Comment
I'd love to hear your thoughts on this article! Please remember to be kind and respectful. If you didn't like something, I always welcome constructive criticism. However, any form of hatred, bullying, or racism will not be tolerated.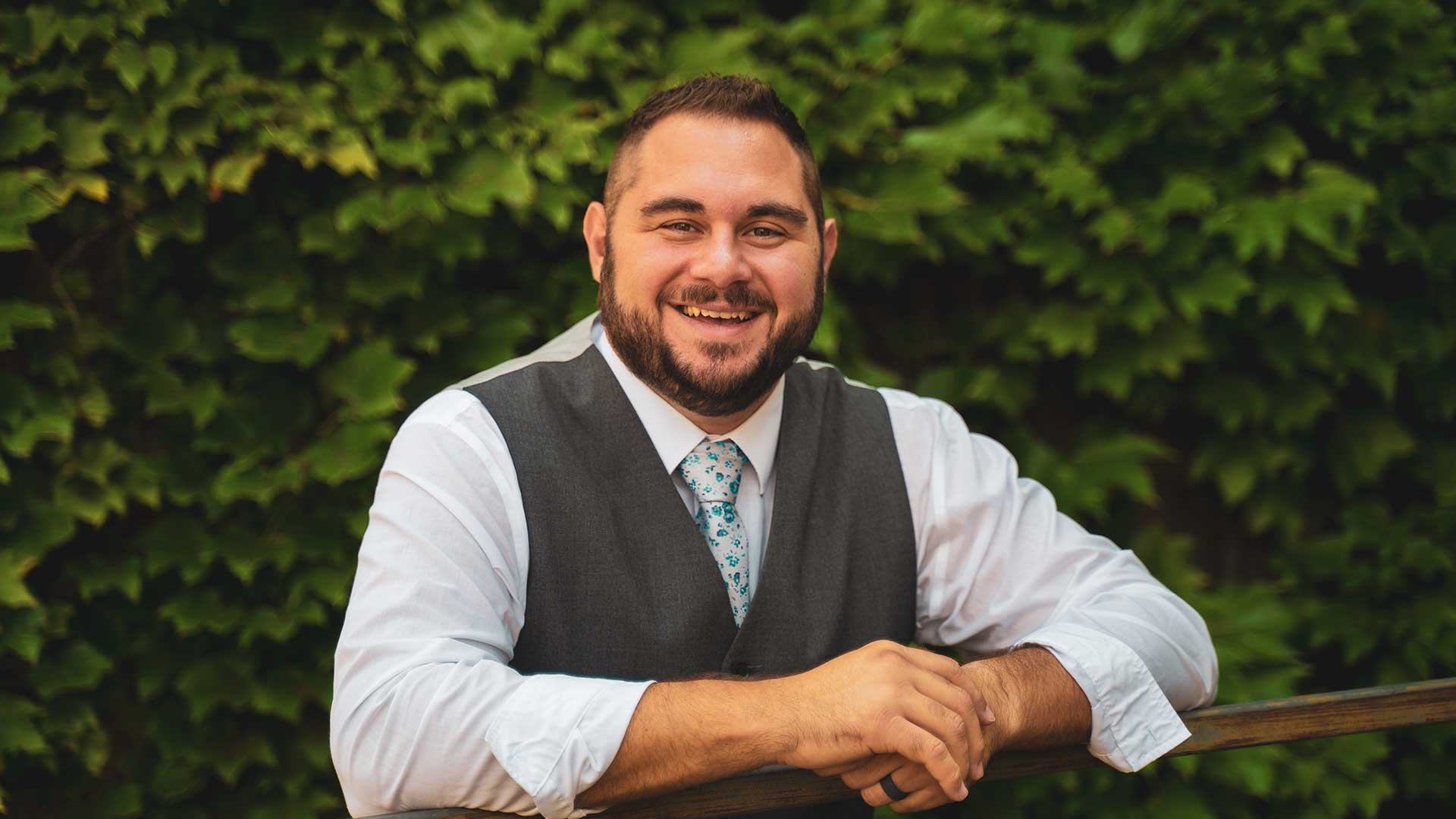 About The Author
Justin Boothby is a lifelong student who loves to travel, film, write, design websites, and life coach. Most importantly he loves to Pastor in all different kinds of ministry settings. He's also an avid pizza lover, metalcore listener, and shot glass collector.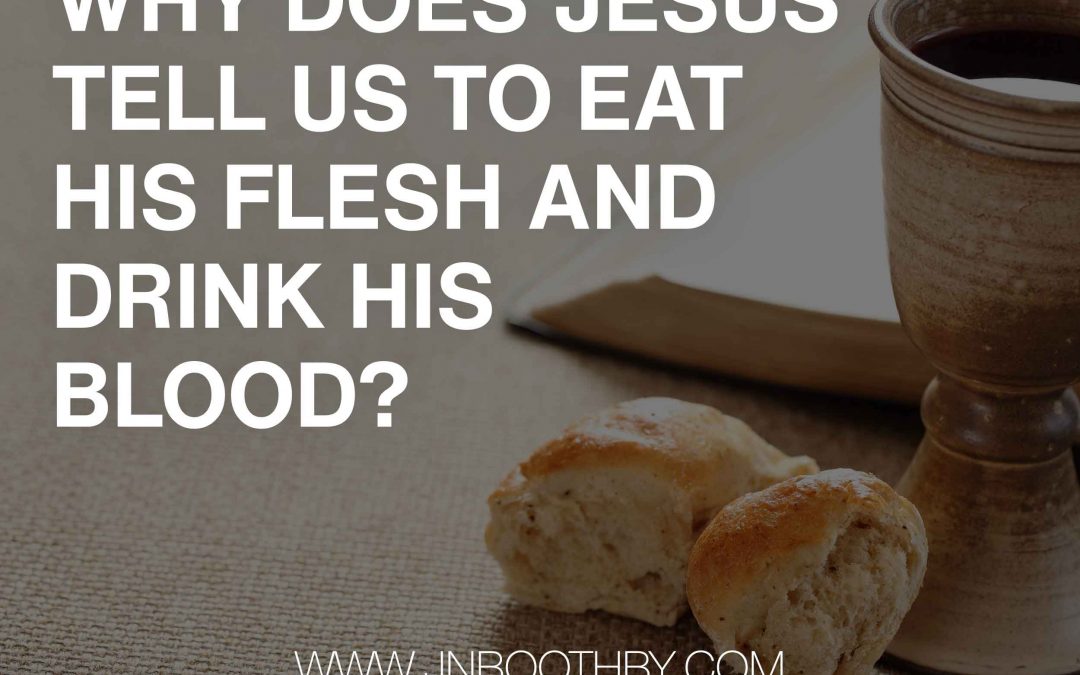 Jesus commands us to do something gross: eat His flesh and drink His blood. What was Jesus really trying to tell us?
Leave A Comment
I'd love to hear your thoughts on this article! Please remember to be kind and respectful. If you didn't like something, I always welcome constructive criticism. However, any form of hatred, bullying, or racism will not be tolerated.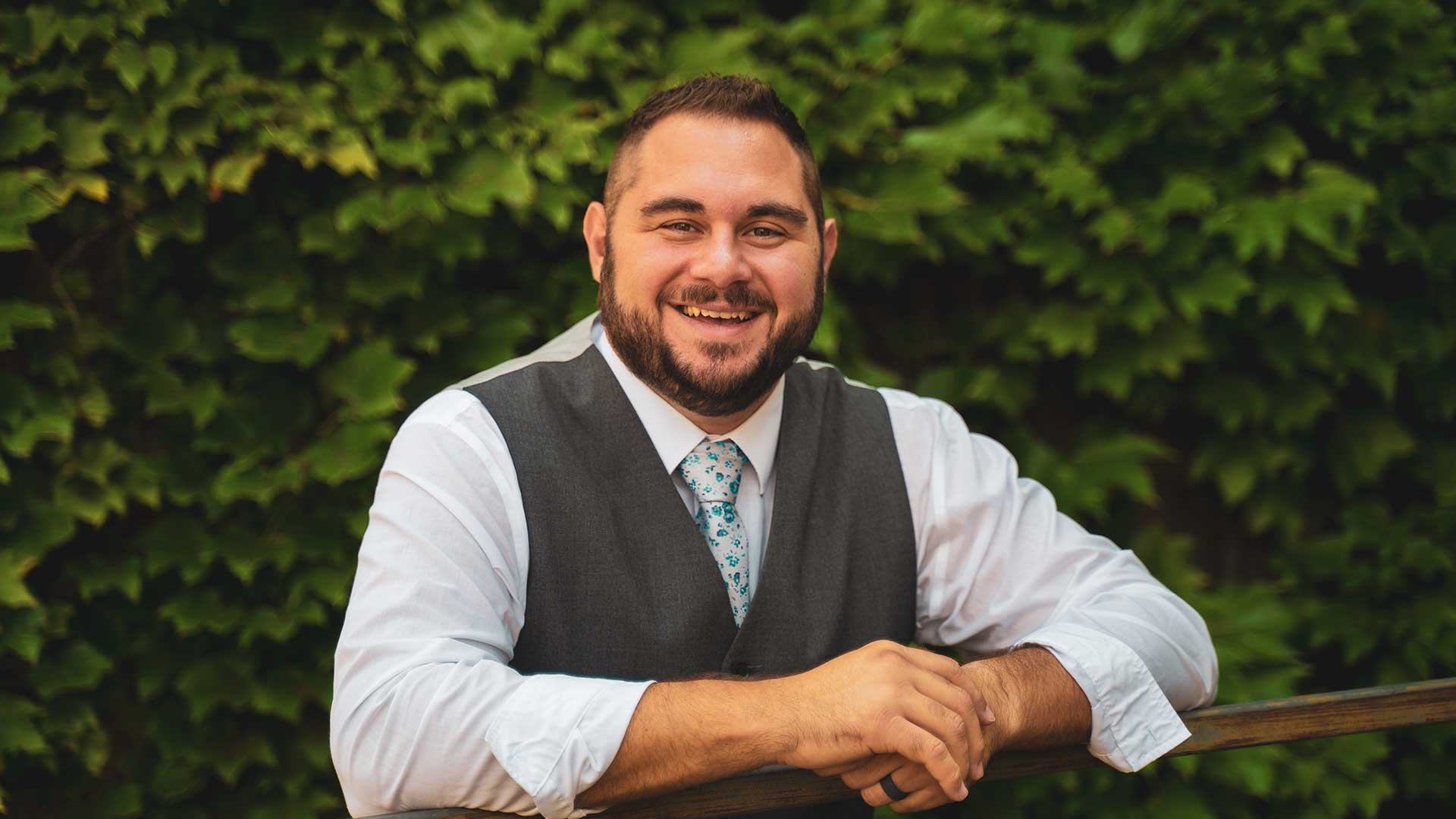 Justin is a lifelong student who loves to speak, travel, film, write, and coach. He has a goal of empowering others to grow closer to Jesus in practical and unique ways. After acquiring two degrees in Practical Theology and then studying in Israel for two years, Justin has a passion to help people read the Bible with a deeper appreciation in its original, ancient context.
M.A. Hebrew University of Jerusalem
M.Div. Regent University
B.S. Southeastern University